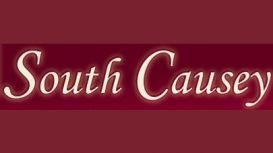 South Causey Inn is a friendly welcoming independent hotel situated in the beautiful Beamish Valley. Set in 100 acres, South Causey Inn is an adaptable venue for a host of different events from a family get together, a Wedding to remember, a meeting place for colleagues or a relaxing overnight stay. We also have an adjacent British Horse Society Approved Equestrian Centre, which offers a range of outdoor activities to add a little something different to your day! We are splendidly situated only 6 miles from Durham City and 6 miles from Newcastle.
---
Reviews and Ratings
We stayed for two nights as part of the elopement package for Valentines Day/wedding day we stayed in the room with a hot tub and sauna. On arrival two massage beds were set up in the room ready for our hour long massage. Whilst massage was taking place we were provided with glasses of champagne and canapies, later in the evening had the picnic hamper with wine, on day of wedding it ran like clock work had a breakfast hamper with champagne enough to feed an army!! The inn accommodated for our guests and we had fantastic food and wine for the wedding breakfast and then enjoyed the comedy club at the end of the day. If you are looking for pamper, fantastic food and excellent service its the place to be - thank you South Causey for making our wedding one to remember.
Kept hearing good things about the place, so my sister and I decided to have a trip out last night to try use out. The menu has plenty of choice and we found it hard to pick what we wanted as there was so much we wanted to try. The food was lush and the meals were very good in size. The place has a very warm and welcoming atmosphere, you get a thumbs up from me, and I would definitely return.