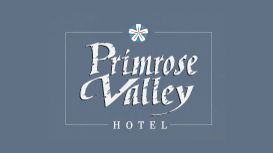 There are three active partners - Sue, Andrew and Rose - supported by a loyal, hardworking team. It doesn't matter, though, who you talk to: we're a team, we pitch in together and we're all proud of Primrose Valley Hotel. We believe in our staff, support some of them through college and are proud to have moved from seasonal to year-round employment. This kind of thing matters to us, it matters to them, and guests can tell the difference. We are always excited at the chance of telling you about us in new ways, and the latest way if a great video, shot with Mark & Emily of Sideways Cornwall. It's a slightly tongue in cheek and humorous look at 'How not to run a hotel' in 5mins and is really worth a view.
During the summer of 2008 we met Phil Nicholls, a photographer with a clientele that included Joe Strummer, Amy Winehouse, Bjork and Red Hot Chill Peppers. His work has appeared in Vogue, Q and the NME amongst many. Phil also provided all the photography for the now cult 'Classic Cafes' book.
---
Reviews and Ratings
We do not have any reviews about Primrose Valley Hotel available right now.