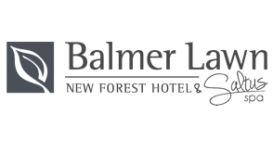 Built originally in the mid 1800's as a hunting lodge, the Balmer Lawn is a classic Country House Hotel set in the very heart of the New Forest National Park. Undoubtedly one of the most iconic buildings in the New Forest National Park! The Hotel's tasteful blend of the contemporary and the traditional ensures the perfect combination of old fashioned values with a modern twist. The Balmer Lawn is the perfect destination for romantic escapes, relaxing getaways, family holidays or corporate events alike.
You can even bring your dog with you! The Hotel's name is taken from the lawn to the front of the Hotel, originally thought to have been called Palmers Lawn (a historical typo culminating in Balmer Lawn). The name is mentioned in the Doomsday Book - how's that for history! Built originally as a private house/hunting lodge at around 1800 and transformed into the building you see today at around 1850.
---
Reviews and Ratings
We regularly come here to recharge my batteries, and it does the job. The hotel is set on beautiful grounds. The hotel is dog friendly and that was the reason we came here first. We have a cavalier and she is spoilt when she comes here. The rooms are lovely & the staff are fantastic! We have been several times and seen staff come and go, but every time we come here the staff have been, helpful, friendly, dog friendly & will do as much as they can to make our stay perfect. The hotel has indoor & outdoor pools, beautiful walks a spa. Now we've come to this hotel, I don't want to go to any other hotel to relax & chill. The hotel, the surroundings & the staff are all first class.
We are still here after a fabulous New Years. Eve Event. Lovely hotel, amazing food. Nothing is too much trouble for the staff. The restaurant staff even helped us create our own New Year's Eve Mannequin Challenge. We also had fun creating one on the dance floor with the brilliant DJ who played a great range of music and everything we requested. Have had a lovely walk today followed by a swim and relax by the pool. Looking forward to a lovely dinner tonight. Definitely don't want to leave tomorrow.